Corruption, Crime and Compliance
By Michael Volkov
Michael Volkov's career has spanned 30 years as an attorney in Washington, D.C. − as a federal prosecutor, a Chief Counsel on the Senate and House Judiciary Committees, a trial attorney in the Antitrust Division and in private practice. This book will help anyone better understand anti-bribery compliance in the U.S. and beyond.
"Michael Volkov's book is a compilation of articles on a number of subjects important to lawyers advising clients how to stay out of trouble. He is a prolific writer and I can say without question, we have not heard the last of his musings. Simply put, his book contains important information that should prove helpful to lawyers, particularly to those who practice in the white collar field."

– Judge Stanley Sporkin, Former Director of the Division of Enforcement, U.S. Securities and Exchange Commission.
Corruption, Crime and Compliance is available now on Amazon.
The Revolution in Ethics and Compliance 
By Michael Volkov
"The rise of the compliance professional is the most important development in corporate governance in this century."

– from the forward, by Donna Boehme
In this collection of recent essays and blog posts, attorney, leading compliance expert, and former federal prosecutor Michael Volkov helps corporate leaders understand how a culture of ethics andcompliance is not only the best protection against code of conduct and legal violations, but also how such a culture creates sustainable financial benefits to a company and its employees.
Volkov writes in the book's introduction: "my hope is that my contribution can lend some weight to an already signiifcant evolution in corporate governance — the rise of the compliance professional and the dedication of corporate leaders and organizations to ethics and compliance."
Forward by compliance strategist Donna Boehme.
Chapters include:
Embracing the Future – Ethics and Compliance
CCOs Take Note: It's the Culture Stupid
Essential Requirements for an 'Effective' Ethics and Compliance Program
The Value of an Ethical Culture
Defining an Ethical Leader
Are Ethical Companies More Profitable?
among others…
Download a free copy of The Revolution in Ethics and Compliance by Michael Volkov now.
The Art of the Internal Investigation
By Michael Volkov
Conducting an internal investigation in today's risky enforcement environment requires numerous — if not continuous — judgment calls.  Stakes are high, and answers are never black-and-white. In this free eBook, Michael Volkov wields his expertise wisely in this compilation of tactics and expert advice.
Download your free copy of The Art of the Internal Investigation instantly.
Question Everything: Effective Due Diligence and Third-Party Risk Management
By Michael Volkov
With almost every FCPA enforcement action involving third party misconduct in one form or another, shouldn't companies devote more resources than ever to due diligence and third-party risk management systems?
There's no magic formula to implementing an effective system. It just takes two things: commitment and common sense. Every company knows how to do it. But not every company commits or makes the effort.
 Volkov has advised hundreds of companies over the years, and this book is a compilation of wisdom no compliance professional should ignore.
Download Question Everything now from Corporate Compliance Insights.
A Return to Common Sense: The Justice Department's Latest Attempts to Deter Corporate Criminals
By Michael Volkov
As the DOJ re-examines its approach, policymakers have to ask the tough questions:
Does the extraction of large corporate fines without criminal guilty pleas promote deterrence?
Do shareholders unfairly bear the burden of criminal fines and penalties?
What impact has the current strategy had on individual prosecutions and the need to deter future misconduct?
Download A Return to Common Sense from Corporate Compliance Insights.
Moving the Goalposts: Justice Department Redefines Effective Compliance
By Michael Volkov
"Change is the law of life.  And those who look only to the past or present are certain to miss the future."

– John F. Kennedy
In one way or another, almost everything I write about can be boiled down to one word: change. Change is good, even when you think it is difficult or bad. When you look back on your life, and if you are able to do so with courage and candor, you will notice the importance of change to your personal and professional development. In fact, as you look back, hopefully you will recognize that change has been a good thing, a positive force in your own life, whether it was overcoming tragedies, finding love, embracing new challenges, or securing accomplishments.
Over the last year, we have witnessed important changes in the compliance profession. In particular, we have witnessed an important evolutionary moment in the growth and influence of compliance. There is no turning back now. The compliance profession demanded recognition, resources and influence, and recently the seeds have been sown to ensure compliance officers get what they want. This is a critical time for the compliance profession, and this book is an attempt to capture the moment, recognize the change and prepare for the future.
Download Moving the Goalposts from Corporate Compliance Insights.
Pointing the Finger: How Corporate Boards Are Dodging Accountability and What Compliance Officers Can Do About It
By Michael Volkov
The compliance revolution has had a dramatic impact on important actors in the compliance arena – the rise of chief compliance officers, the redefinition and elevation of chief ethics officers, and a dramatic increase in compliance-related functions and responsibilities.
Yet, we have failed to see any significant changes where it matters most – at the corporate board level.  Every company should have a former or existing compliance professional serving on its board.  In the absence of one or more compliance professionals appointed to a corporate board, it is imperative that corporate boards devote more time and attention to learning how to monitor and effectively supervise an effective ethics and compliance program.
Corporate board members devote significant time to financial oversight and strategy, while ignoring steps needed to protect and promote its most important intangible asset – its culture and reputation.  Corporate board members would rather discuss strategy issues and ignore the important questions surrounding its culture.
Corporate boards are due for a rude awakening – compliance expectations and competing stakeholders are demanding increased and more effective oversight.  Directors need to learn how to carry out these important functions.  A chief compliance officer has a responsibility to educate and train board members on how to manage its corporate culture and ensure the effective operation of compliance controls.
This book is a contribution to increasing demand for greater corporate board accountability and responsibility.  Board members need to understand the new realities surrounding corporate governance and embrace a new era of responsibility.  Corporate boards do not have a strong record of promoting change, but hopefully new leadership inside corporate boardrooms will understand and accept this new era of responsibility.
Download Pointing the Finger from Corporate Compliance Insights.
It's the Culture, Stupid: Ethics and the Definition of Successful Companies
By Michael Volkov
"Ethical businesses are much easier to manage and operate in comparison to unethical businesses that turn a blind eye to employee misconduct."
In his latest book, available exclusively from CCI, Michael Volkov boldly points out that leaders who are committed to building a corporate community based on trust and integrity are considered innovators.  These are the outliers who will succeed.
Care to join them?  If you take a pass — or merely pretend to embrace his message or ignore the importance of an ethical culture — you'll be left behind in our new and rapidly evolving economy.
Like a compliance program, a company's culture has to reflect careful design and tailoring to risks and its employees. Further, a company's culture has to be evaluated, monitored, tested and remediated. New strategies are needed beyond those in the obvious toolbox. Ethics requires creativity and metrics. "Feel good" pronouncements of ethical value will not accomplish anything unless every employee understands what the company expects from the employee in his/her day-to-day responsibilities.
Download It's the Culture, Stupid from Corporate Compliance Insights.
The Road Ahead: The Justice Department's Path to a Balanced White-Collar Enforcement Policy
By Michael Volkov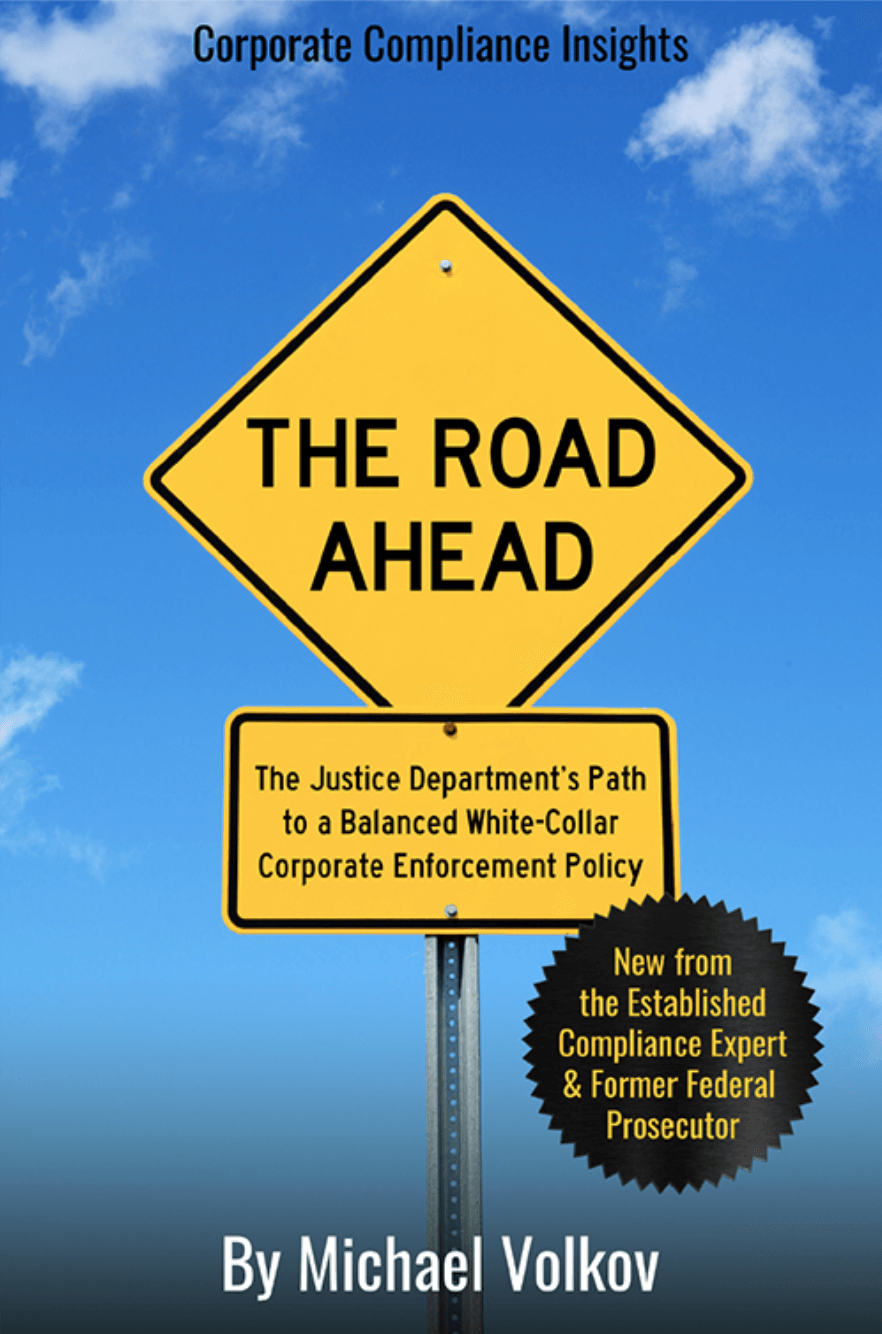 The Justice Department's FCPA Corporate Enforcement Policy, adopted in November 2017, was a watershed moment in criminal justice. Over the last five years, the Justice Department "struggled" to establish a firm set of rules and expectations surrounding corporate criminal liability.
Beginning with the FCPA Guidance, issued in November 2012, and then culminating with the FCPA Corporate Enforcement Policy, issued in November 2017, the Justice Department has sought to balance several competing factors: (1) encouraging voluntary disclosures of corporate misconduct; (2) deterring corporate misconduct through prosecution of individual actors; (3) avoiding disproportionate punishment of corporate shareholders; and (4) providing meaningful incentives for companies to implement proactive ethics and compliance programs to detect and prevent corporate misconduct.
The stakes for the Justice Department, and for the US economy and society as a whole, are high. Since the financial collapse in 2008, and the resounding absence of criminal prosecutions of senior executives from culpable financial institutions, the Justice Department has sought to implement a "new" approach, which balances the relevant factors to ensure effective prosecution of corporate crime and individual misconduct. This book examines the path and the Justice Department's approach to this difficult but critical issue.
Download The Road Ahead from Corporate Compliance Insights.
Making Money Is Not a Mission: 10 Essays on the Compliance Culture Revolution From Michael Volkov
By Michael Volkov
As broad terms like "culture" continue to gain devotees, it may seem natural to conclude that more businesses and organizations are embracing ethical behavior. But when they're asked to explain how they manage, measure and monitor their company's culture, many of those responsible for doing just that don't have much in the way of details.
As author and attorney Michael Volkov explains in his eBook, "Making Money Is Not a Mission," too few organizations have a clear grasp on corporate culture and business ethics and even fewer are pouring adequate resources into maintaining this crucial component of their company. In his eBook, Volkov offers 10 essays that may help change the way you think about corporate culture and what it means to "do the right thing."
The insights and opinions Volkov shares can help organizations rethink their approaches to building strong, positive, ethical culture on their teams.
Download Making Money Is Not a Mission from Corporate Compliance Insights.