Brazil Bribery Scandal Reaches Advertising Agencies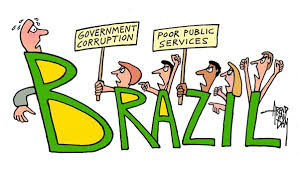 Humans are good at avoidance and can even reach a state of blatant disregard. The corruption news coming out of Brazil is so far-reaching that it is almost numbing.
Last year we all ventilated about the GSK China scandal. This year Brazil is the new focus. Petrobas has been a constant in this reporting deluge.
Tom Fox pointed out yesterday (here) that bribery has been discovered involving global companies and tax liabilities. It is hard to keep up with the headlines and to even fathom the extent of corruption that is being revealed in Brazil.
New bribery reports are now centering on global ad agencies and illegal payments made by global ad agencies to Brazil politicians. In the center of the new storm is Lowe & Partners and its parent Interpublic Group ("IPG), which is traded on the New York Stock Exchange.
This new scandal is likely to ctch the attention of the US Department of Justice and the SEC. A former executive at the Brazil ad agency (subsidiary of IPG) is accused of instructing third parties to make bribery payments to a Brazil Congressman, Andre Vargas, for various government ad media accounts.
Operation Carwash has now extended beyond Petrobas, the construction companies, and potential global bribe payors, into a new realm, ad agency interactions and payments for government media contracts. This will open up a huge potential minefield of bribery involving government advertising accounts.
Competition among ad agencies is cut throat and the business is an intense low margin slugfest. With the possibility of bribery as a key determinant of business contract awards, this scandal may stretch to other ad agencies.
DOJ and the SEC know how to investigate an industry, and starting a sweep is not very difficult. The first focus for such a sweep is looking for common use of corrupt third parties to funnel bribes. In the medical device and pharma industries, DOJ and the SEC employed this tactic very effectively to unmask elaborate bribery schemes involving overlapping participants. This lead to the industry "sweep."
Global ad agencies are about to experience such a sweep relating to their activities starting in Brazil and potentially reaching other areas, particularly in Latin America such as Argentina.
IPG is feeling the heat right now. The key question is will DOJ and the SEC launch an investigation in coordination with Brazil investigators.
Lowe & Partners earned commissions from media buys in Brazil on behalf of its government client. It is alleged that Lowe & Partners took these commissions and made illegal payments through local production companies to Congressman Vargas' shell companies. The financing of bribes through such accounts permitted Lowe & Company to avoid Brazil government accounting and auditing procedures.
The Brazil head of Lowe & Partners left the agency in December 2014.   IPG is trying to get in front of this matter claiming that it conducted an internal investigation, implemented remediation measures and is cooperating with the investigation. IPG has not disclosed the matter in any SEC Filing.
The one thing that we all know from following corruption investigations – we are the beginning of this story and more will come to light. IPG's competitors are sure to fall under scrutiny.
DOJ and the SEC already have opened a related investigation involving the Petrobas scandal. It is likely that these recent disclosures will result in similar parallel actions in the United States focused on global ad agencies. Brazil and US law enforcement agencies have a long history of coordinating and collaborating on important investigations – this is likely to be another example of their close working relationship.